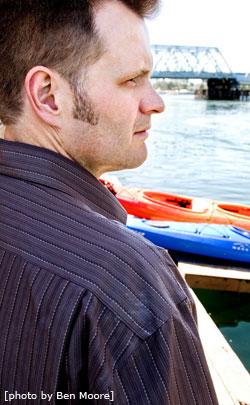 Contacts

e-mail dleach@uvic.ca

publisher Viking Canada / Penguin

literary agent The Rights Factory

web design Daniel Hogg



About the Author
Formerly the managing editor of explore: Canada's Outdoor Magazine and now an assistant professor of writing at the University of Victoria, David Leach has a long and passionate interest in wilderness travel, outdoor sports and adventure writing. Magazine assignments for a variety of national and international publications have led him to kayak through polar-bear country; mountain bike across the Andes of Peru, Bolivia and Chile; compete (badly) at the TransRockies Challenge bike race and the Canadian Ski Marathon; and profile many of Canada's top explorers and adventurers.
In 2003, after six months of intensive research, he published "Death by Adventure", a 7,500-word investigative feature in explore about the ill-fated Fundy Multi-Sport Race near Saint John, New Brunswick. Over the next five years, he continued to track down participants and rescuers, to follow the aftermath of the tragedy, and to explore the general issues of wilderness safety and shared responsibility raised by the controversial race. On April 1, 2008, Viking Canada will release Fatal Tide: When the Race of a Lifetime Goes Wrong, a book- length dramatization of the events of the 2002 Fundy Race and the larger consequences for the international world of adventure sports.
For more about David Leach, visit his website.