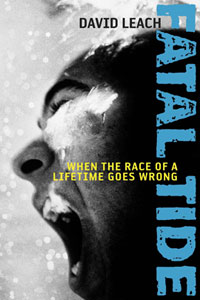 Do you have feedback about Fatal Tide for the author? Send it here.


Reader Comments
"I write you this letter... to give thanks to you for your diligent effort to keep the René Arseneault story at the forefront of the Canadian adventure seeker's mind. Things went tragically wrong on that day, and one man and his family paid the ultimate price. In what I refer to as a 'buyer beware' industry, questions should continue to be asked of this type of activity and of the people who provide them. It is terrible that the average person/adventure traveller will spend more time deciding what to eat at a restaurant than they will in choosing who they will trust to take them out hiking, biking, skiing or paddling for a day."

—Kayak Instructor
---
"I recently read your book and found I could not put it down. It's a real page-turner! The complex story of the kayaker's death, seen from many angles, is woven together seamlessly. I did not expect to find the book that interesting (not being an outdoor adventure enthusiast), but it sucked me in right from the start. The writing itself is superb throughout and, in places, absolutely dazzling. Congratulations on such a fine first book."

—Susan Scott, Victoria, B.C.
---
"I've been trying to find the right words to explain how wonderful of a job you did on capturing the race and the events leading up to it. Proud doesn't even come close to what the feeling is. It was so detailed and accurate, that it's hard to believe that you were not a participant in the race. ...Thank you again, David, for writing this book and telling readers the truth about what happened on that day."

—Friend of René Arseneault
---
"Well done & thank you.

Why well done?

Your ability to deliver the story with every emotion I can think of. Having been in the race & so involved, it was easy to be captivated by your story telling. The science behind hypothermia was very interesting & the research was outstanding. Your accounts of the people involved had me consumed from the beginning.

Why Thank you?

You have given an honest account of the events on that day & the trials & tribulations of the aftermath to the athletes & their families.

My wife & I were so interested in the book that I read the complete contents to her out loud... it was a first for us... & we both laughed & cried.

So...thank you & well done."

—Fundy Race Participant
---
"I received my copy from Chapters last week and have been enjoying every minute of it. I still am only reading through the first half of the book but based on what I have read think that you have done a tremendous job.

Congratulations you have put together a very real depiction of the days events that I am sure many will learn from."

—Fundy Race Participant
---
"I read Fatal Tide today. I found it to be a very interesting, informative and provocative book and I'm glad I read it.

Based on my limited knowledge of all the facts concerning the Fundy Multi-Sport Race, I believe you've done an excellent job with your research. Everything that I knew about the event was accurately recounted in your book, and much more.

Especially interesting to me was your presentation of theory and fact about hypothermia. The possibility/probability that René would have survived had he been extracted from the water in a prone rather than vertical position astounded me. Given that this 'pressure' phenomenon has been known since the war, shouldn't it be part of all rescue and first aid training? I know I'm not that well trained or read in this area, but I don't recall ever hearing of this before. For this information alone, I hope many, many people read your book....There is something that almost everyone can learn through reading this book."

—Fundy Race Participant